Experience scuba diving on Bonaire with your own local enthusiastic instructor in one of the world's most beautiful underwater destinations.
Bayabi Foudation with his partner PARADIS DIVING SERVICES offers personalized guided dives on Bonaire programs for individuals, families and groups. Our motto is 'DO IT DIFFERENTLY THAN EVERYBODY ELSE'. We can help you plan a unique dive program or workshop for your visit to Bonaire, Caribbean Netherlands.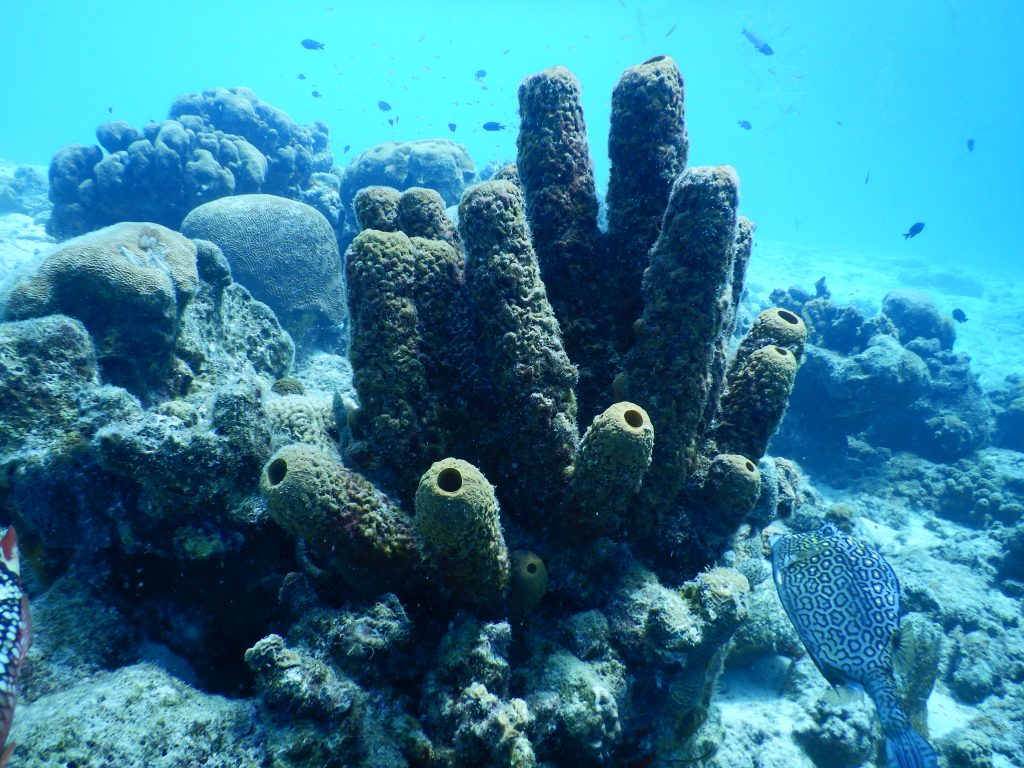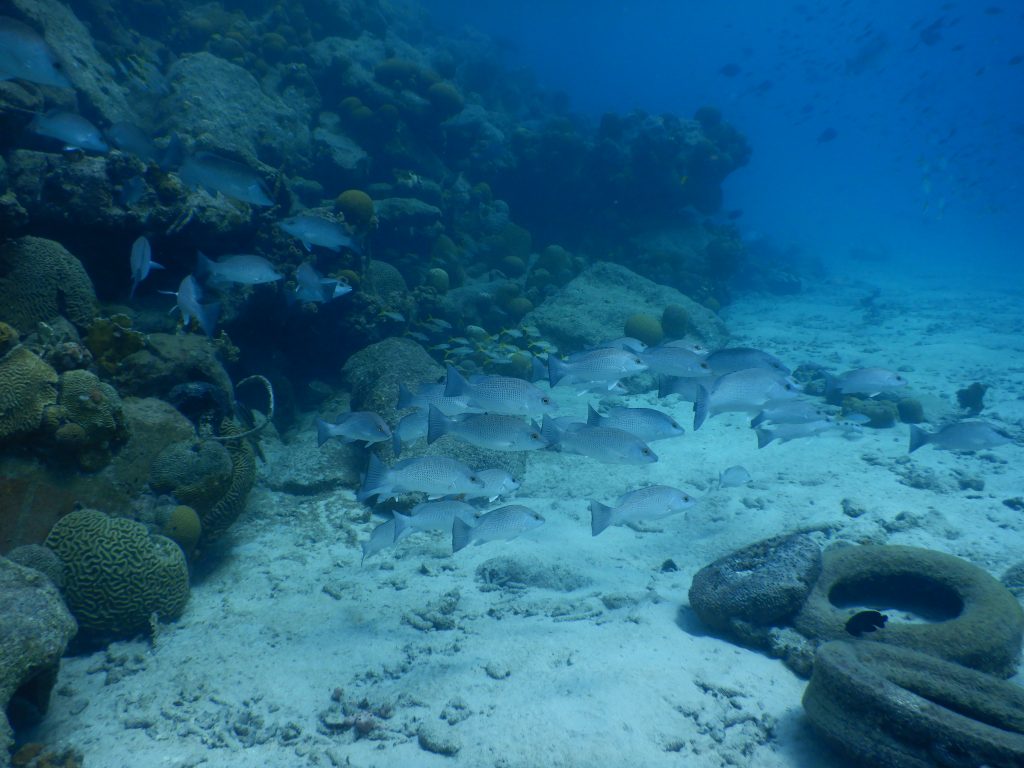 We offer a safe and pleasurable guided shore dive experience customized to fit your wishes and schedule. We work with some of the best scuba diving schools on Bonaire and have access to their well maintained dive equipment and tanks.
We want you to have an unforgettable scuba diving experience getting to know the splendor that is scuba diving on Bonaire. You are guaranteed to have a fantastic time whether you choose a morning, afternoon or night dive.
PARADIS DIVING SERVICES also offers Discover Scuba diving workshops for first time divers. In this 4 hour class you will receive instruction before making an introductory ocean dive under the guidance of a certified diving instructor. If you feel that you need a little more underwater time you can elect to make a second introductory dive on the same day. The Discover Scuba workshop is a great way to introduce non-divers to the sport and makes a fantastic gift for birthdays and other special occasions.
To make your vacation even more special you can choose one or more 'out of water' Bonaire experiences. BONAIRE FLAMINGO EVENTS offers workshops in Salsa dancing, cocktail mixology and African (djembe) drumming. PARADIS DIVING SERVICES can arrange topside experiences that are sure to make your Bonaire vacation unforgettable.
Discover Scuba Diving

"Beautiful, Adventurous, Colorful, Relaxing, Inspiring, Awesome….."
Most people associate the word diving with adventure and underwater discovery. Scuba diving allows one to stay underwater for a prolonged period of time and experience a new and different world full of surprises and wonder.
Origin and history
The Aqua-Lung, a self-contained underwater breathing device, was invented by Frenchmen Jacques Yves Cousteau en Emile Gagnan around 1942. This invention made it possible for man to explore the mysteries under the sea. In the 1950's Cousteau began capturing this world on film and his documentaries became popular in Europe and the United States. By the 1960's adventure seekers started to purchase the Aqua-Lung to experience the beauty, peace and serenity of the underwater world firsthand.
The Professional Association of Diving Instructors (PADI) is the world's largest recreational dive training organization. It was created in 1966 by dive pioneers John Cronin and Ralph Ericsson and is largely responsible for popularizing diving as a recreational sport in the United States and around the world. PADI offers basic Scuba Diver and Open Water Diver courses as well as a variety of specialty courses of interest to the recreational diver. Courses, ranging from Dive Master to Dive Instructor and ultimately Course Director, are also available for divers wanting to work as certified professionals in the recreational diving industry. PADI certifies approximately one million divers per year.
The most popular PADI certification is Open Water Diver. After successfully completing this course the diver is allowed to dive to a maximum depth of 60 feet (18 meters). The Advanced Open Water Diver is allowed to dive to a maximum depth of 100 feet (30 meters). This course consists of 5 specialty test dives of which Deep Dive and Underwater Navigation are mandatory. The other three dives can be of the certification candidate's choice.
Divers having the PADI Divemaster certification can lead groups of divers. The certification Open Water Scuba Instructor (OWSI) and Specialty Instructor (SI) allow the diver to teach and certify open water and specialty divers respectively. A Master Scuba Diver Trainer (MSDT) can instruct and certify divers through the level of Advanced Open Water Diver.
About the Discover Scuba Workshop
We begin the workshop with a brief history of diving. You will also learn the basic skills and safety precautions required to make a dive under the direct supervision of a certified PADI professional. You will practice these skills in shallow water in preparation for your introductory dive in the ocean.
In the workshop you will learn:
About the equipment used in diving and how easy it is to move around underwater while wearing it
How to breathe underwater
Basic skills used in every dive
How much fun it is to swim and explore underwater
How you can become a certified diver by taking the PADI Open Water Diver course
The Discover Scuba skills are first practiced in a swimming pool before making the introductory dive in the ocean. The introductory dive site is within walking distance of the dive school.
Diving equipment and air tank are included in the price of the workshop.
Your partner or other members of your party are welcome to join you even if they are not participating in the Discover Scuba workshop. They can enjoy snorkeling while you are having your first underwater adventure.
If you do not have your own vehicle and are staying within 9 miles (15 km) of the dive school we can arrange transportation to and from the workshop.
Mini Discover Scuba Workshop (240 minutes or 4 hours)
The first60 to 90 minutes will be spent learning about equipment and basic diving skills. These skills are then practiced in a swimming pool. When you have satisfactorily performed theses skills and feel comfortable you will proceed with your instructor to the ocean for a guided dive. The dive site is conveniently located within walking distance of the dive school. You can carry your equipment there or it can be transported by automobile if you prefer. The workshop can be conducted in English, French or Dutch.
Super Discover Scuba Workshop (420 minutes or 7 hours)
You will have the Mini Discover Scuba experience plus a second dive in the afternoon. There will be a one hour pause between dives. You are encouraged to bring your own lunch for the sake of time. The second dive will take place at a different site which is also ideal for beginner level divers. Transportation to this location is included. The workshop can be conducted in English, French or Dutch.
Deluxe Discover Scuba Workshop (450 minutes or 7-1/2 hours)
You will have the Super Discover Scuba experience plus we provide lunch. The pause between dives is extended to an hour and a half. During the pause you will have lunch and
a brief tour of Bonaire with your dive instructor who is also a Bonaire tour guide. The workshop can be conducted in English, French or Dutch.
PARADIS DIVE SERVICES can help make your Bonaire vacation one you will never forget. Think of PARADIS as your vacation angel on Bonaire, the Diver's Paradise.
[/html]